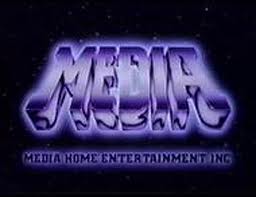 Media Home Entertainment Inc. was a home video distributor headquartered in Culver City, California, originally established in 1978 by filmmaker Charles Band. They are considered to have been one of the pioneers of home video in North America.
The company was founded in 1978 under the name 'Meda Home Entertainment,' named after founder Charles Band's wife at the time. However, most people though that the name was a misspelling of 'Media,' prompting Band to change the name of the company. The early 'Meda' releases are now sought after by collectors.
The company got off to a rocky start in 1978 when they were sued by several companies for releasing concert footage of the Beatles and the Rolling Stones. Nevertheless, Media went on to become one of the largest video distributors in the United States, releasing films such as A Nightmare on Elm Street, Halloween, and The Texas Chainsaw Massacre. Media also released most of Cannon Films' library, including a number of popular action movies.
Media continued to grow throughout the 1980s, and eventually created three sub-labels: Hi-Tops Video (for children's films,) Fox Hills Video (for special interest releases) and The Nostalgia Merchant (for classic public domain films.)
In 1984, the company was purchased by Heron Communications and became a division of that company. Initially, Media continued to grow, but by 1990 they had begun downsizing in the wake of a scandal involving Heron's owner Gerald Ronson. Ronson went to prison for 6 months, and Heron Communications (including Media Home Entertainment) became defunct in 1993. The final Media titles awaiting release were distributed by Fox Video, in the meantime, Media sold its library to Video Treasures. 
Present Day
Edit
As of 2013, the majority of Media's library is owned by Anchor Bay Entertainment, which purchased Video Treasures in the late 1990s. The Cannon Films library is controlled by MGM. 
Media's VHS releases, especially the original MEDA releases, are sought after by collectors and bring higher prices than the Video Treasures re-releases. Despite this, Media tapes are relatively common when compared to the releases of other companies from the same era.