Magnetic Video was a home video distributor from Farmington Hills, Michigan. They are known for being the first sucessful home video company in the United States.
Magnetic Video was founded in 1968 by Andre Blay. In the fall of 1977, Blay came up with the idea of releasing films on videocassettes for home use, and convinced 20th Century-Fox to license 50 of their films to Magnetic Video to be released on VHS and Betamax. 
In the same year, George Atkinson purchased one VHS and one Betamax copy of all 50 films and opened the first Video Station rental store. The store was a huge success, and Atkinson quickly began opening more Video Stations, causing Magnetic Video's sales to skyrocket. Over the next 3 years, Magnetic Video licensed and released films from Viacom, Avco Embassy Pictures, ITC, ABC Pictures, and United Artists, in addition to establishing their own sports and laserdisc divisions. Magnetic Video was such a success that it came over to the United Kingdom and Australia. 
In 1980, Magnetic Video was purchased by 20th-Century Fox. Blay remained a prominent chairman and shareholder in the company until his departure in 1982. Shortly after Blay left, Fox re-organized Magnetic Video into 20th-Century Fox Video. Later in 1982, Fox merged its video division with CBS Video Enterprises, and it became 
CBS/Fox Video
.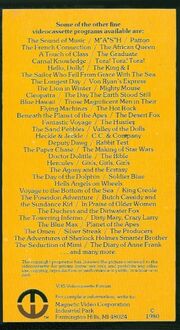 Notable Releases
Edit
The Sound of Music, Patton, and M*A*S*H were Magnetic Video's first three releases. They were all released on the same day in 1977.