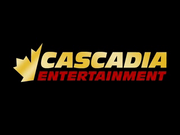 Cascadia Entertainment was a Canadian home video distributor. They are known for releasing a large number of rare films on DVD.
Cascadia is thought to be the successor to Vidtape, Inc. Both companies released many of the same films and used the same series names. Cascadia released films from a variety of genres, countries, and time periods.
List of Releases
Edit
Black Cinema
Edit
A large series of films featuring all-black casts.
Broken Strings (1940) & Beware (1946)
Juke Joint (1947) & Go Down Death (1944)
Look Out Sister (1938) & Two-Gun Man From Harlem (1946)
Sunday Sinners (1940) & The Girl in Room 20 (1946)
The Emperor Jones (1933)
Cartoons R Fun
Edit
A series of classic cartoon compilations. These are not related to the VHS series.
Classical Christmas Tales
Edit
A series of holiday-related films. 
The Night Before Christmas (19??)
Children's Theatre
Edit
A series of compilations of 1970s educational films. These discs are transferred from VHS originals.
Double Features
Edit
Desert Story (1954) & Act of Decision (1955)
Magical Memories
Edit
A series of compilations of animated films from Russia, which were imported in the 1990s by Vidtape, Inc. These discs are direct transfers from Vidtape's original releases.
Adventures of the Ding-a-Ling Brothers
A Kitten Named Bow
Pirates, Pirates
Puss in Boots
The Ugly Duckling
Saturday Matinee
Edit
Arizona Bound (1941) & Rocky Mountain Rangers (1940)
Silver Spurs (1943) & Billy the Kid Returns (1938)
Susanna Pass (1949) & Trail of Robin Hood (1950)
Despite the rarity of the films they released, Cascadia developed a negative reputation for the poor image and sound quality of their releases (which they claimed were 'remastered.') This led Cascadia to begin releasing more common public domain films, which were available in better quality. The company eventually changed its name to Digital Disc, and their division Cascadia Labs became DDC Labs. Digital Disc continued to release films for several years, but did not reissue any films that had been released by Cascadia. Digital Disc closed in the late 2000s.